SHOP
A Perfect Gift for Yourself or a Girl Friend
Traveling Sanctuary Sisterhood Tote B*a*gs, Your sister companion along your journey of self-discovery and self expression.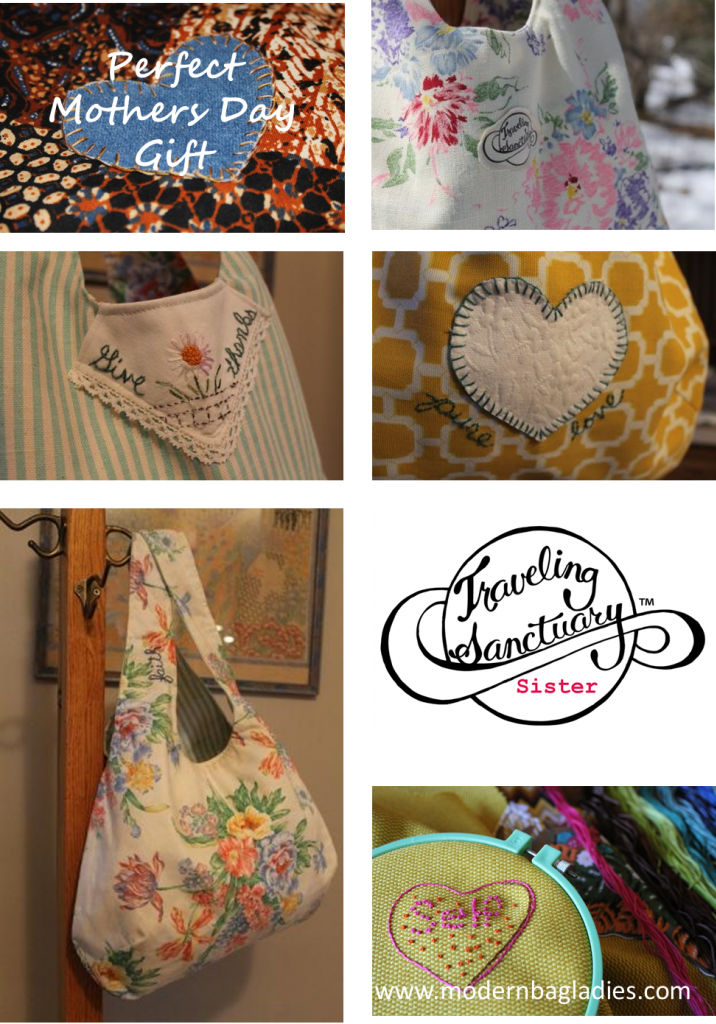 Meet some of your sisters…….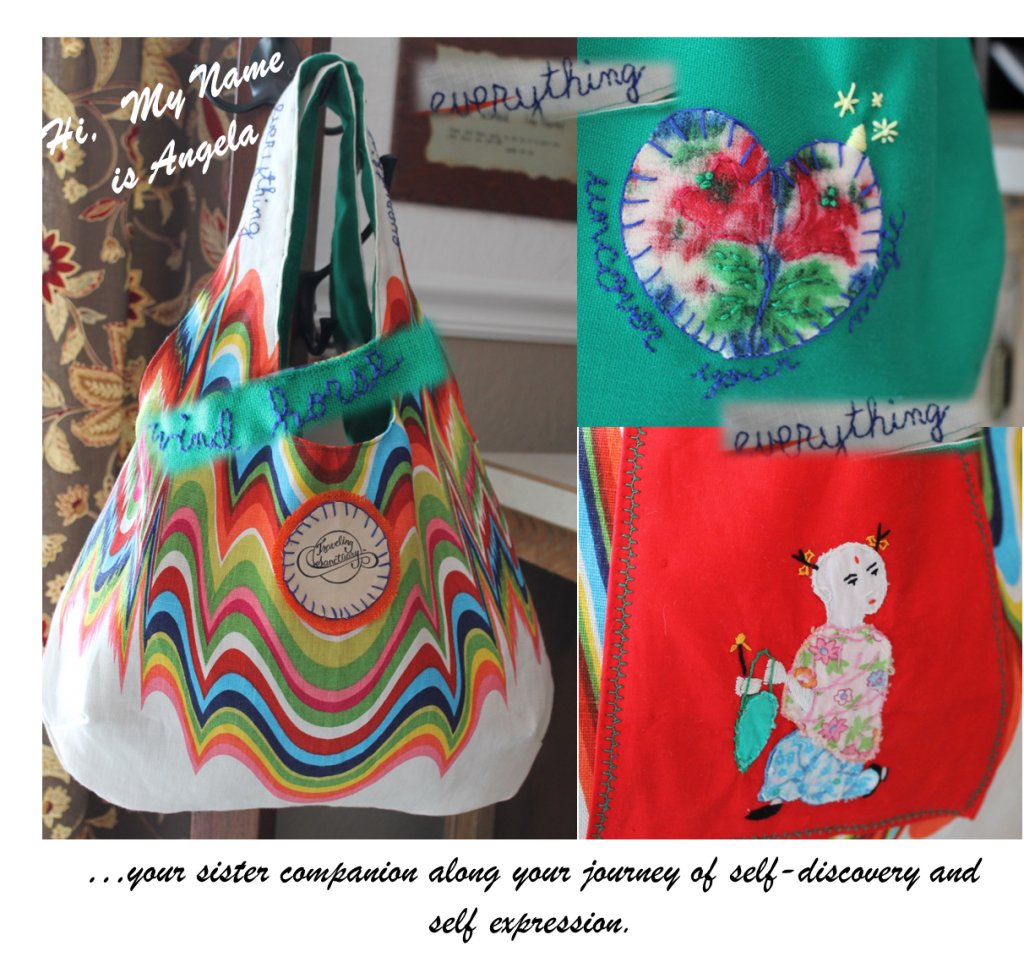 Learn more about Angela….. (read on)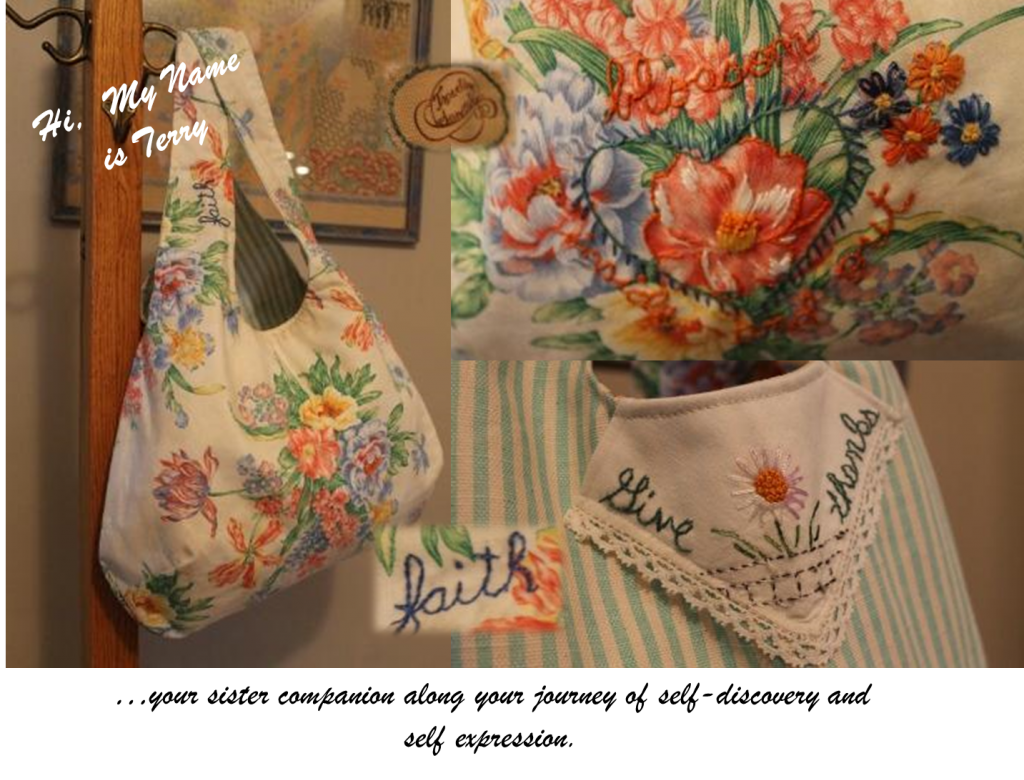 Learn more about Terry….. (read on)
Also……
Whether we ask for it or not life gifts us with life altering moments….. a loss, a birth, an illness, a divorce, a hope, a dream, a new beginning
Gifting her a Traveling Sanctuary Sisterhood Tote B*a*g says,
You are not alone.
I am here to listen.
Ask for what you need.
Take care of yourself.
I'm proud of you.  Keep going.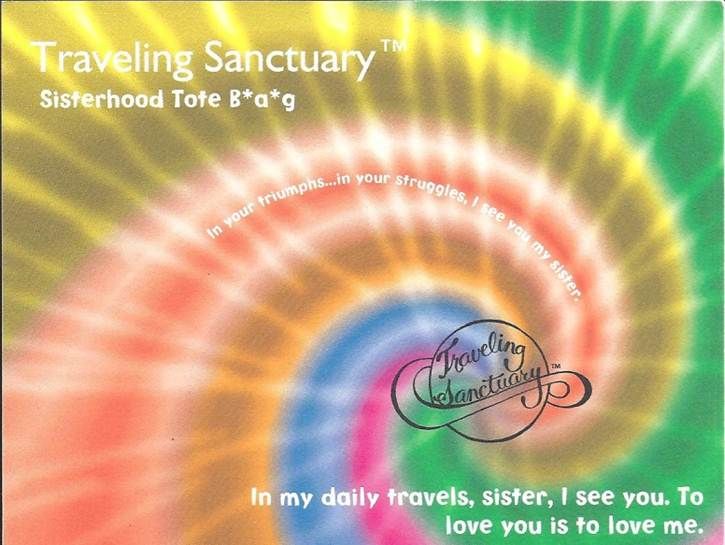 Each bag is inspired by a woman who fosters the Traveling Sanctuary Sisterhood values.  Her anatomy is a constant reminder:
To pay attention to what makes my inside heart smile
To be present in the moment
To learn new things
To apply what I learn, so I could personalize it and create my own story
To share my story and share my inside heart smile
To honor the sisters that have come before me
AND to have faith in the process
Our Journeys Continue Together….
From my heart to yours
Two years leading up to January 2007 I was mentally and physically exhausted.  The worst thing is that I thought I was suppose to feel this way as a working mother and wife.   This led to a 6 week medical leave, during which time my husband was at work and my children were in school during the day.  I WAS ALL ALONE WITH MY THOUGHTS.  I thought to myself,  "How did I get here and where was I going from here?"
I immediately set out on a journey of self discovery,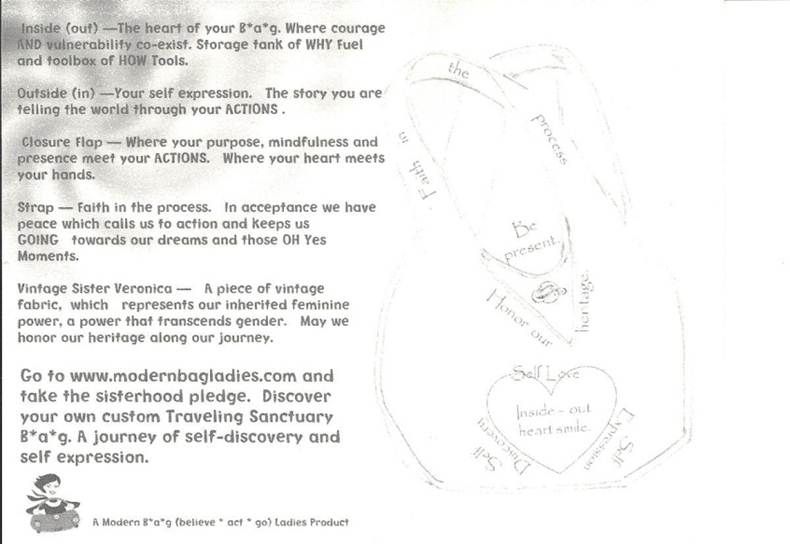 which involved putting different things in my BAG.  I started reading more.  I started to journal.  I started calling my BAG my Traveling Sanctuary.  What I came to understand is that my BAG was a metaphor for me.  I needed fuel and tools to be the Traveling Sanctuary.  I needed to be at home with myself everywhere I went, so others would feel comfortable being themselves with me.
Each night before bed I did a sister meditation.  I imagined specific women in my life.  I inhaled all that they were.  Shared it with all that was me.  I exhaled all that was of us and shared it with everyone along my daily travels.  More women came into my life.
Discover Your Very Custom Traveling Sanctuary™ Handbag

Here is Jan's Believe * Act * Go Traveling Sanctuary Story in pictures.
Witness the birth of Kim's Traveling Sanctuary.
Watch more stories unfold on Pinterest.