Services
I specialize in helping you GET TO THE HEART OF WHAT MATTERS TO YOU so you can CONFIDENTLY connect your MIND and HANDS in service of your HEART.
I coach individuals,  facilitate small groups and speak to organizations on the topic of value centered living.
Learn more about my life and professional journey which has prepared her to serve her clients.  It's my calling.
I use the following HOW TOOLS in my coaching and facilitation.
Discover Your B*a*g Continuum Model
Right Brain Business Plan
Business Process Improvement Tools
Discover Your B*a*g Continuum Life Coaching
Is it for you? -  You seek purpose and fulfillment in their life.  You hear a whisper in your ear, "You have more to offer the world and the world has more to offer you."   You desire your work life to match your personal values.  You are seeking support and guidance during a life transition.
What is it?- We use the Discover Your B*a*g Continuum Model as a framework from which to guide your personal journey.  It consists of these main components: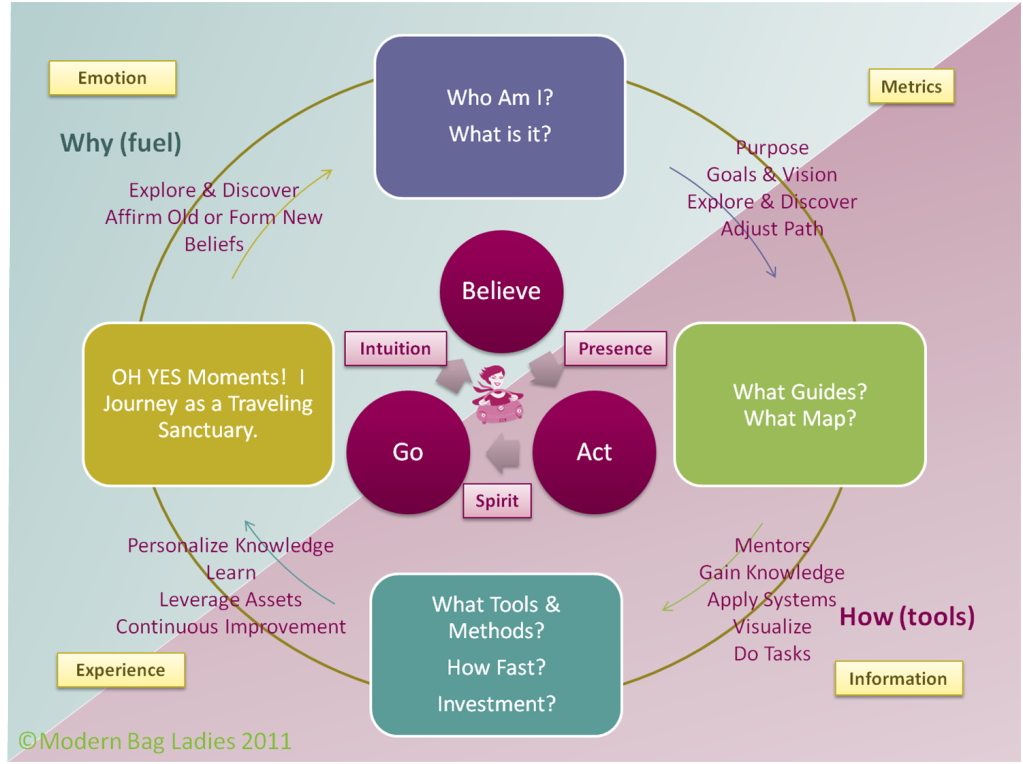 Ground yourself iny our values and strengthens (WHY Fuel for our Traveling Sanctuary)
Express our authentic self in worldly endeavors
Seek knowledge, Travel Guides, methods and tools (HOW Tools)
Determine your investments
Apply knowledge
Have a personal experience with the application of knowledge
Create a personal story which Fuels your Traveling Sanctuary center
Packages:
$40 – 30 minute session
$75 – 1 hour session
$125 – 1.5 – 2 hour session
$195 – 3 – 1 hour sessions package
$360 – 6 – 1 hour sessions package
Intrigued?  Curious?  Call or email.  kimlampe@travelingsanctuary.com  612/221-5209
Right Brain Business Plan Facilitator
I specialize in facilitating small groups of like minded business women using the Right-Brain Business Plan® curriculum.
Consider organizing a group if….
You know and admire other like minded business women
You have considered forming a master mind group
You are a solo entrepreneur looking for trusted advisers
Organize a group and receive a 50% discount!  Get the FACTS Here!
Is it for you?:
You don't have a business plan and know you need one, but doing dirty dishes, dealing with loads of laundry, or even getting a head start on next year's taxes all sound way more appealing (ugh!)
You've tried to do a business plan the "traditional way" and you got stuck, overwhelmed, and demotivated
You already have a business plan, but you need to breathe new life into it
You can't stand spreadsheets
Numbers numb you out
AND you'd be a heck of a lot happier planning your business in the same intuitive, authentic, and expressive way that you live your creative life (yes, indeed, it can be that fun and fulfilling!)
What is it? – A creative approach to business planning, which harnesses the power of your right brain to execute on the left brain activities.  Click here to get all the details.
Individual Package: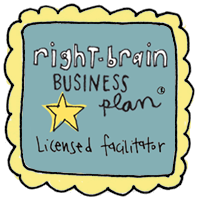 $900 – One-on-one 12 hour package (Price includes Right Brain Business Plan Book and Business Plan Kit)
Group Package:
$200 to $250 – Small Group Facilitation, 5 – 2 hour sessions,  (Price includes Right Brain Business Plan Book and Business Plan Kit)
Intrigued?  Curious?  Call or email.  kimlampe@travelingsanctuary.com  612/221-5209
Business Process Improvement Packages
Visualizing Your Problems Solved
Do you have vision and passion, but feel you are missing some key tools and fuel to propel you forward?
You juggle many roles.  How can you focus on what is important?
How do you maximize the time you do have?
How do you improve an existing business with all your current responsibilities?
Do you love your business, but are falling short on results and/or  have little time to create a lifestyle you truly desire?
Sound like you?  Tell us more.  Answer a few questions to receive a free initial consultation.  No obligation.
My approach and philosophy.
You are not your roles.  You bring your true self to everything you do.  When you are home with yourself others feel at home with themselves as well.  You create that safe place everywhere you go.  It's the essence of being a Traveling Sanctuary.
I take your business personally.  Improve yourself – Improve your business.  Improve your business – Improve yourself.  The tools we apply are for your personal and business life.
Utilizing tools alone does not make for improvements.  First you must know who and where you are.  Dashboards and maps are important tools.  Why fuel first.  How tools second.
You are unique and so is your situation.  I take an ale carte approach and help you discover your B*a*g (believe act go), which requires your own custom combination of tools and fuel.
Modern B*a*g Ladies partners with thoughtful and passionate women which expands the availability of ideas and taps into a broader base of expertise and insight.
After an assessment session we create a laser focused, action orientated plan.
To start we focus on the highest impact improvements which are the easiest to implement and the most cost effective.
Throughout the process you will feel challenged, informed and empowered to take action towards improving your life and business.
Packages:
$40 – 30 minute session
$75 – 1 hour session
$125 – 1.5 – 2 hour session
$195 – 3 – 1 hour sessions package
$360 – 6 – 1 hour sessions package
$900 – 12 hour multiple session package (You're committed to take a deep dive, dig in and get results.)
Believe Act Go
ale cart

discovery tools:
Discover Your B*a*g Continuum Model
Right Brain Business Plan Curriculum
Listening, exploring, visualizing, verbalizing
Measurement dashboards (How are we really performing?)
Process mapping (What does the work really look like? Where are our bottle necks?)
Mind mapping (Have I considered all the possibilities?  What are the connections?)
Ease-impact opportunity identification (Easiest solutions with the highest impact!)
SWOT Analysis (Free Ebook – Strength Labels Oversome Weakness Labels Creating Opportunites while Acknowledging Threats)
Belive Act Go
ale cart

implementation tools:
Standard work development (manage expectations)
6S for Success – sort, stabalize, shine, standardize, sustain, safety
Customer Relationship Management (needs based service, follow-up, targetedcampaigns)
Online presence – social media, website and blog development
Branding – visual and messaging